The Foca Sport was a very popular French camera.
| | | | |
| --- | --- | --- | --- |
| | Foca Sport | | |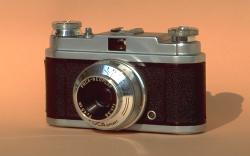 Made by the french firm OPL (Optique de précision de Levallois) Foca, the Foca Sport was first produced in 1954. It was a very popular camera. Designed for the general public, the first model was quite simple : unaided focusing, no light meter, a 45 mm f/3.5 Neoplar lens, and a shutter giving speeds from 1/300 s to 1 s plus B pose and flash synchronisation. It was gradually upgraded : the film advance knob was replaced by a lever and some were fitted out with a collimated finder and a light meter.

Its successor, the Foca Sport II, was fitted out with a coupled rangefinder and a better lens.
| | | |
| --- | --- | --- |
| | Characteristics | |
| | |
| --- | --- |
| Format | 24 x 36 mm |
| Lens | Foca Neoplar, 45 mm f/3.5, 3 elements |
| Shutter | central, Atos 2, from 1/300 s to 1 s plus B pose, X flash synchronisation |
| | | |
| --- | --- | --- |
| | Accessories | |
| | | |
| --- | --- | --- |
| Macro attachment | | |
| | | |
| --- | --- | --- |
| | Links | |