The Retinette 1B was a very popular camera made by Kodak during the sixties.
| | | | |
| --- | --- | --- | --- |
| | Kodak Retinette 1B | | |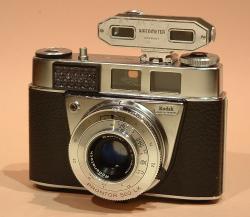 An evolution of the Kodak Retina designed for the general public, the first Retinette appeared in 1939. The first versions were folders. The Retinette became a rigid camera in 1954 with the 1A model. The 1B appeared in 1960. The one on the picture was made in 1966.

Fitted with a 45 mm f/2.8 Rodenstock Reomar lens (a triplet originaly designed by Schneider-Kreuznach), the Retinette 1B has a coupled Gossen selenium light meter with a needle display in the viewfinder. The finder has a collimated frame with parallax indication marks.

The shutter gives exposure times from 1/500 s to 1/15 s plus B pose and flash synchronisation. It uses a hot shoe, making the synchro-cord optional.

The Retinette has no rangefinder but focusing marks on the lens. It is not very accurate. The model shown on the picture has a Watameter II external rangefinder mounted on the flash shoe. The Retinette was a very popular camera.
| | | |
| --- | --- | --- |
| | Characteristics | |
| | |
| --- | --- |
| Format | 24 x 36 mm |
| Lens | Rodenstock Reomar, 45 mm f/2.8 |
| Shutter | central, Prontor 500 LK, from 1/500 s to 1/15 s plus B pose, flash synchronisation |
| | | |
| --- | --- | --- |
| | Accessories | |
| | | |
| --- | --- | --- |
| Carrying bag | | |
| | | |
| --- | --- | --- |
| | Links | |