The Zeiss Ikon Super Ikonta 530/2 is the first of this very successful brand of cameras.
| | | | |
| --- | --- | --- | --- |
| | Zeiss Ikon Super Ikonta 530/2 | | |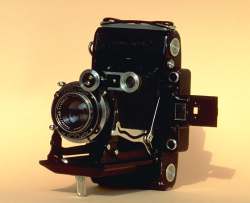 First introduced in 1934, the 530/2 model is the first of the Zeiss Ikon Super Ikonta series. It is very light, has an excellent lens and a large format but is far less easy to use than its 6 x 6 cm brother.

The shutter release is on the lens assembly, the 105 mm f/4.5 Tessar lens is uncoated, the rangefinder and viewfinder are independent and there is no double exposure prevention system. The stamped metal body is quite flexible and very prone to vibrations. But the excellence of its lens and its giant 6 x 9 cm format are worth the effort.

On post-war models the lens is coated, double exposure is prevented and the shutter release is on top of the body. Its simplicity makes it lighter and more compact than the 6 x 6 cm model.
| | | |
| --- | --- | --- |
| | Characteristics | |
| | |
| --- | --- |
| Format | 6 x 9 cm (120 rollfilm) |
| Lens | Zeiss Tessar, 105 mm f/4.5 |
| Shutter | central, Synchro-Compur, from 1/250 s to 1 s, B pose, M flash sync, self-timer |
| | | |
| --- | --- | --- |
| | Sample pictures | |
| | | |
| --- | --- | --- |
| | Links | |