The Zeiss Ikon Tenax is a pre-World War II compact camera with rapid film advance.
| | | | |
| --- | --- | --- | --- |
| | Zeiss Ikon Tenax | | |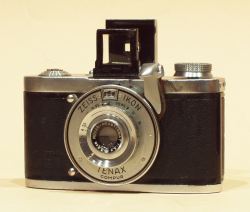 Made from 1930 to 1941, the Zeiss Ikon Tenax is a very compact, rapid-action camera. The use of the 35 mm film which was becoming the standard in the wake of Leica and its 24 x 24 mm format allowed Zeiss to reduce the camera's size. Everything that protrudes (viewfinder, cocking lever) can be folded. The camera can thus easily fit in a pocket. Its small format allows to take up to 50 shots on a standard 36 exposures film.

The operation of the Tenax is uncommon. A push with the left forefinger on the cocking lever (right of the lens on the picture) cocks the shutter and advances the film. A push on the release button with the right forefinger takes the shot.

The lens is an uncoated 35 mm f/3.5 Novar Anastigmat triplet.The shutter is a Compur without flash sync giving speeds from 1/500 s to 1 s. The viewfinder is of albada type. There is no lightmeter or focusing aid.

After World War II, the Tenax II took the rapid advance cocking lever of its ancestor but with a coupled telemeter and interchangeable lenses. However, East Germany produced the original Tenax again in 1948 with a coated Tessar. A Tenax Automatic was also produced later but it was a completely different camera.
| | | |
| --- | --- | --- |
| | Use | |
The Tenax is very fun to use. The symetrical cocking lever and release button induces to shoot everything. However, its potential speed of action is somewhat diminished by the fully manual aperture, speed and distance settings but it is also a part of its charm.
| | | |
| --- | --- | --- |
| | Characteristics | |
| | |
| --- | --- |
| Format | 24 x 24 mm |
| Lens | 35 mm f/3.5 Novar Anastigmat uncoated triplet |
| Shutter | central, Compur, from 1/500 s to 1 s without flash sync |
| Exposure modes | manual |
| | | |
| --- | --- | --- |
| | Sample pictures | |