| | | |
| --- | --- | --- |
| | Korea or emerging Asia | |
A "new rich" continent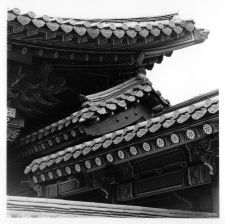 My journey to Korea in august 2002 showed me what an "emerging nation" is. Following the Japanese example, Korea is one of the "four Dragons", countries with a quickly growing economic power.

This economic miracle is not for everyone. Everywhere the contrst between a rich and growing Korea and a poor and traditional one is to be seen, as well between towns and the countryside as in the cities themselves.

There is the traditional distinction between rich and poor city areas. But in some streets a strange coexistence can be seen between rich, high buildings and a poor street level struggling for its economical survival. It makes particularly lively streets where businessmen walk between dried-up fish sellers in a not really tasty food smell.

The overall impression is of a "new rich" country spending tons of money in occidental showiness while a large part of the population is left over by the economic growth. But all these people seem to be coexisting in an apparent harmony.